Students compete in dragon boat race
Students from Shanghai University of Traditional Chinese Medicine (SUTCM) joined a dragon boat festival hosted by the Saint Martin's University in Washington of US on April 25.
About 1,000 participants of 42 teams from universities, high schools and community organizations paddled their way through the annual Dragon Boat Races. The team from SUTCM won the second place in semi-finals and ranked 16th in the final competition.
After the race, SUTCM's students performed martial arts and played erhu, a traditional two-stringed bowed Chinese instrument. The festival also offered fun activities like Chinese traditional art demonstrations and lion dances.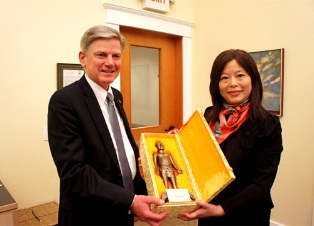 Dragon boat races were held nationwide around the fifth day of the fifth month in Chinese lunar calendar every year to commemorate the death of Qu Yuan, a patriot poet during the Warring States Period (475-221 BC), who threw himself into the Milo River to protest political turmoil at that time.
The Dragon Boat Festival, hosted by Saint Martin's University, started in 2006. The annual event aims to raise cultural awareness and build a sense of community in local residents.
The SUTCM team was one of two Chinese members that were invited to this year's dragon boat festival by Saint Martin's University, which has been actively involved in education and cultural exchanges with China since 1995.
Currently, about 50 Chinese students are studying at the university. Each year, members of Saint Martin's faculty travel to China to teach courses and its students regularly participated in China study tours.